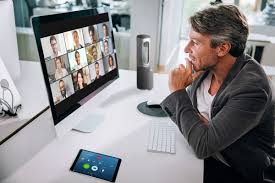 Recently I worked with a client whose staff have wanted to work from home for some time but were denied. The COVID-19 pandemic has now given them that opportunity. I am sure this will be welcomed by those individuals – though not through the circumstance they would have thought. For others who now have to work from home and would rather not, this can present a significant challenge. It can affect mental health, disrupt routines, disconnect them socially and impact performance.
As a leader, it is critical at this time that you maintain contact with your team, encourage a sense of community, and that you check in with how your team members are faring from a mental health perspective. How are you gauging the health of your team?
Here are 7 tips to ensure your team stay connected and continue to perform.
1. Communicate Differently
Use videoconferencing frequently. For example, if you usually meet with your team once a week, holding a video conference two to three times a week can help to maintain a sense of connection. These meetings don't have to be formal; they may be casual and informal 15-30 minute chats.
The importance is maintaining a sense of community and contact. What you're looking for is how people are coping. Therefore, rather than a pure business agenda, there might be a focus on your staff's mental and physical health, how they're going socially, with family and working alone. It's not about disclosing personal information, but more a sense that "we're all in it together".
Share the chairing of these meetings around. This gives people some ownership of connecting with others. Encourage the team to meet without you. Or create project groups. This will serve to increase team morale and decrease the prospect of loss of knowledge and experience.
2. Take Advantage Online
You can encourage your team to provide helpful information and resources in online chat forums, such as Yammer or Slack. Such information does not have to be about business; it might be about mindfulness and relaxing or anything else that will help to lift spirits or form a sense of connection. However, there should be ground rules about the kind of content that can and cannot be shared. For example, nothing political or divisive.
Have a discussion around using LinkedIn – to better understand what is happening in the business world, or to research and network. LinkedIn has special interest subgroups which can help to give your team members a sense of community and belonging despite being physically isolated from others.
3. Encourage Routine
Encourage your team members to stick as closely as possible to their regular routine. For example, getting dressed, shave, do hair, exercise etc if this is what they would normally do during the week. If they have kids, have them make/pack their lunch every morning. Team members should have regular scheduled breaks during the day – to break up the day and create a sense of normality.
4. Social Interaction
Social interaction is extremely important when it comes to mental health, and you should talk to your team members about socialising with friends and family as much as possible. This may include phone calls, FaceTime or Zoom meetings. Nothing wrong with a coffee over the net!
5. Learn Something New
Challenge your team to set themselves a personal goal or task for the week. For example, they could learn a new recipe or practise guitar. It doesn't necessarily have to be anything big, like repainting the house or renovating. Small goals are easier to achieve! And good to chat about when the team meets again.
6. Working From Home Set Up
Make sure your team is set up comfortably and ergonomically, as much as they can. For example, sitting at a proper desk at home is better than working from bed! If, for instance, their chair is uncomfortable, you could suggest that they invest in an ergonomic chair. Talk about occasionally getting up to do some stretches to counteract any tension or discomfort they're experiencing.
7. Refer Where Necessary
While team members could be open to sharing their feelings and experiences please have your radar up if you feel some could benefit from using your organisation's Employee Assistance Program or be referred elsewhere. Remember, as a business owner or manager, you still have a duty of care, and your team will appreciate your understanding.